Jo Ellen Doering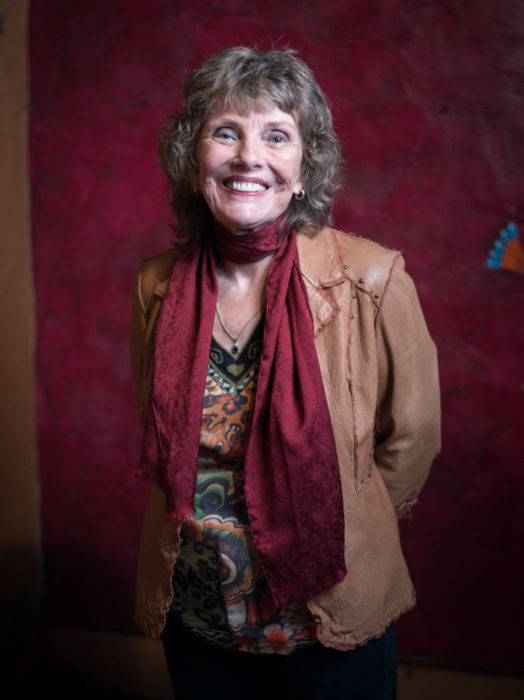 Jo Ellen was born in Pittsburg, Kansas way back in the 1900's. When she was about three years old, just like George, her family moved to San Diego, California.
Even when she was 3 or 4 years old she could sing in tune well. Her mom took her to talent contests, and she also sang in church. Both her mom and dad played guitar as well as piano. When she was about ten years old her mother taught her some guitar chords. Her mom also taught her to play the piano.
She grew up singing old-time music with her mother and sister in church, on local television, and the odd barn dance around town in San Diego, California. Piano lessons were added later, and in addition as a teenager she was also bitten by the banjo bug.
In the San Diego area around that time, there were lots of other musicians who had discovered bluegrass; friends such as Bernie Leadon, Kenny Wertz, Larry Murray, Tony McCashen, Bill Wyle and Chris Hillman. The local San Diego music community was rich with players and performers who all benefited from the atmosphere of The Blue Guitar and The Land of Oden.
The Blue Guitar was the local guitar shop owned and operated by the founders of The Scottsville Squirrel Barkers—Ed Douglas and Larry Murray. The Land of Oden was the local folk/bluegrass club where she began performing.
Jo Ellen and a few other girlfriends started singing together and the managers of The Land of Oden got them on a USO Tour. In May of 1964, the USO Tour "Hollywood Hootenanny" left for Saigon, Viet Nam. They toured all over the Orient for five months, then wound up their tour with six weeks in Alaska—going above the Arctic Circle. After the tour ended Jo Ellen moved to Los Angeles.
For many years she sang and played guitar, banjo, and dulcimer in all the local folk music clubs, including The Troubadour, The Ice House, and McCabe's. She did a brief stint in Hoyt Axton's band, and then traveled with The Smothers Brothers and Rick Nelson, which brought many interesting adventures.
For awhile she moved to Chicago, where there were still a lot of folk music clubs—but she got too lonesome for LA and came back home.
One lucky day she met George on a recording session and it wasn't very long after that, they were married—36 years ago. That's when she hung up her traveling shoes. They began making music together, performing around town and writing music together for movies, television, documentaries, etc. But by far, they will both tell you that their favorite music is playing bluegrass with The Brombies and spending time with their furry animals in the piney hills of Hollywood.
One night onstage Jo Ellen's arm literally quit playing the guitar. It stuttered a bit, then started again—but by December of 2012 Jo Ellen had to have shoulder surgery. After a few more repairs to the shoulder, the surgeons realized it was her neck that was causing all the pain and trouble. In October of 2015 she had surgery on her neck.
While she won't be able to play the guitar again, she is VERY thankful that she can sing. We were so fortunate to have John Plotnik to play guitar with us exactly when we needed him.  Jo Ellen has no regrets and is not the least bit worried about not playing guitar. She says, "I get to be in the middle of this excellent music with these fine musicians and sing with these fine singers! It would be very ungrateful to wish for more."
Check out some of Jo Ellen's stories on this website.